Custom-Fit Hearing Aids: What Do They Look Like?
Many people prefer and successfully use custom fit digital hearing aids. We offer custom fit hearing instruments, all of which can include circuitry options, for those with a preference for custom fit instruments.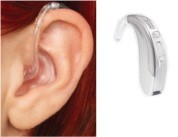 Behind the ear (BTE)
Fits over the top of your ear. Tube connects to a custom
fit earmold which fills the bowl of the ear.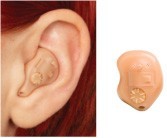 In The Ear (FULL SHELL)
Fills the bowl of the outer ear. Easy to handle, especially for people with arthritis and dexterity problems.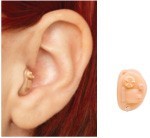 In The Canal (ITC)
Fills the entrance of the ear canal.

Completely In The Canal (CIC)
Smallest hearing aid available. Hidden within the ear canal. Removal wire helps to insert and remove aid.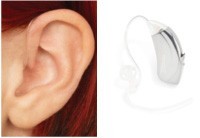 Open Ear BTE with Slim Tube
Miniature behind the ear hearing aid that hides behind the ear and uses a slim tube to connect to a small canal tip.
Keeps canal open, eliminating occlusion (feeling like your ear is plugged and your voice sounding like it's in a barrel).