Allergy Shots (Immunotherapy)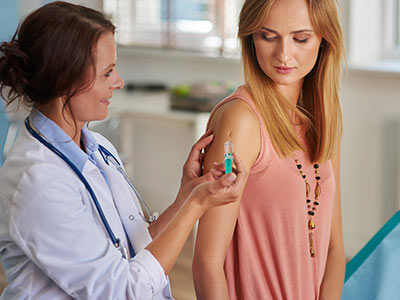 Allergy shots are a form of treatment called immunotherapy. Each allergy shot contains a tiny amount of the specific substance or substances that trigger your allergic reactions. These are called allergens. Allergy shots contain just enough allergens to stimulate your immune system, but not enough to cause a full-blown allergic reaction. Over time, the shots stimulate your immune system to generate blocking antibodies which prevent the normal allergic reaction to antigens you are allergic to.
A typical course of allergy shots last 3 years starting weekly for the first year, then biweekly the second year and finally monthly the third year. During the weekly shots, every 10 weeks the patients' serum will be mixed a little stronger until they reach concentrate at which time the patient will reach maximum benefit from shots. By slowly building to concentrate, this helps get your body used to the allergens (become desensitized). Your immune system builds up a tolerance to the allergens, and your allergy symptoms diminish over time.
Allergy Drops (Sublingual Immunotherapy)
Sublingual immuotherapy can be utilized instead of allergy shots when patients travel, and cannot come into the office for shots, or with children who cannot tolerate shots. These are administered daily by patients instead of weekly shots. They are effective but take longer for patients to realize a reduction of allergic symptoms.